Avon Lake Leak Detection Plumber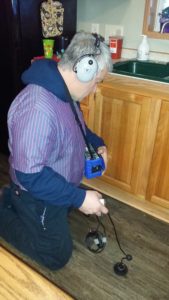 When you need leak detection or leak repair in Avon Lake, OH call a local plumber near you, Absolute Plumbing and Boiler. If you suspect a problem with a leaking pipe in your home, you can count on our experience and technology to help. From sonic leak detection to slab leak repairs, our Avon Lake leak detection can save you time and money.
Our leak detection and locating equipment can assess if there is a leak, even underground and in inaccessible locations. If you suspect a leak, it is important to have a local plumber near you locate and repair it to prevent structural damage to your property.
Slab Leak Detection in Avon Lake
Some local plumbers advertise slab leak detection services but once they get into your house they wind up cutting holes in the walls looking for water lines and use a technique of elimination to figure out which water line is leaking. Then they offer to re-route the leaking water line. This process is old-fashioned and usually takes a lot of time to execute. Using this process to find out which water line is leaking can run you hundreds and in some cases thousands of dollars before the leak is actually fixed.
Our special leak detection equipment eliminates this old fashion method and can locate the leak with out destroying your home.
Avon Lake Leak Repair Plumber
Once leak detection is performed, Absolute Plumbing and Boiler, a local plumber near you, can help you with a range of leak repair solutions so you can make an informed choice as to which course of action to take. From spot repairs to replacement we can get your system back in working order.
If you are in need of Avon Lake leak detection plumber give us a call. Absolute Plumbing & Boiler promise that our work is done expertly and efficiently so you can live and work comfortably. Please request an appointment online or call 440-541-7642