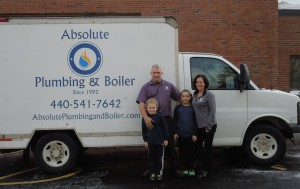 Water softeners have been around for years. They are designed to convert hard water into soft water. When water is tested for hardness the minerals calcium and magnesium will show up. If the readings are above 1 it is considered to be hard water. Anything below 1 is considered soft. Although there are several degrees of hard water there is only one degree of soft water. Soft water is very hard to come by in the Elyria area unless you have a softener.
Absolute Plumbing & Boiler has been installing, maintaining and repairing water softeners in the Elyria area since 1992 and would be happy to help you with all your water softener needs.
Most water delivered to the consumer in the Elyria, Ohio area is around 7 on the hardness scale. There is good reason the local water supplier delivers this level of hardness.
It provides minerals in the drinking water that soft water is missing.
Hardness in the range of 3-8 provides a protective coating for plumbing pipes and fixtures that helps mitigate fresh oxygen from attacking the pipes.
At these levels you may see some spotting of dishes and possibly a white residue around plumbing fixtures.
The Benefit Of Water Softeners
Water softeners if installed and maintained properly can provide great benefits for residents in the Elyria area. The following are benefits of Absolute Plumbing & Boilers water softener services in the Elyria area:
Decreased residue on plumbing fixtures
Decreased scale build up in plumbing pipes and appliances.( especially if you draw water from a private well )
Increased performance of soaps and detergents
We offer a free water analysis with a in home consultation should you be interested in a water softener. Your sample will be sent to a testing lab for independent results and recommendations of the water softener that best fits your needs.
Consequences of A Water Softener
Water that is softened to 1 or below can have its draw backs on homes plumbing systems in the Elyria area. Soft water delivered through a traditional water softener will use salt to recharge the filter bed. This salt once combined with city water produces sodium chloride. The increase in sodium chloride can have some side effects:
Increased sodium for those on sodium restricted diets.
Premature failure of water heaters
How A Water Softener Effects Water Heaters
The most common of these water softener consequences we run into in the Elyria area is premature failure of the water heater when a water softener is in use. This largely due to the chemical reaction between the sodium in the softened water and the sacrificial rode in a tank type water heater. The water softening process deteriorates this rode at a rapid rate usually in a year or two. Once this rod is gone the lining of the tank is then attacked and the water heater begins to leak. If not maintained properly the water heaters life expectancy is between 4 and 6 years.
Absolute plumbing & Boiler has an extensive background in water softeners in the Elyria area and can provide solutions to protect your water heater should you need or already have a water softener. These solutions include:
Routine inspection of your water heater
Routine inspection and replacement of your anode rode
Installation of Aluminum anode rods for longer tank life
Installation of Powered anode rods that require little or no maintenance
If you any questions about the effects of a water softener on your water heater give us a call.

Absolute Plumbing & Boiler
Since 1992, Absolute Plumbing & Boiler has been providing quality and affordable plumbing and boiler services to the city of Elyria, OH..
Absolute Plumbing & Boiler promise that our work is done expertly and efficiently so you can live and work comfortably. Please request an appointment online or call 440-541-7642.