Waterproofing a Basement in Rocky River, OH
I got a call from a client in Rocky River in the fall who was having some issues with water coming into her basement when it rains. After initial diagnosis of the home's foundation and storm drains it was determined the foundation was in need of waterproofing.
After my client received a couple of quotes she decided to go with the lowest bidder. The lowest bidder performed the basement waterproofing, wrapped up the job and left. The very next rain fall my client had water in her basement again.
After several attempts to get the waterproofing company to come out, they finally showed up to perform several services that should have been done during the original waterproofing job.
Frustrated, my client called me to come back out and evaluate the work that had been done. What I found was that several critical items related to waterproofing a basement were still not complete.
Unfortunately cheaper is not always better and my client now has to pay a professional waterproofing company to come in and finish the job.
What Steps Should I Take Before Waterproofing My Basement?
The first items that should be addressed is to have a professional plumber camera all the downspouts, storm and sanitary sewers. If these drain lines are not working properly they can cause water to enter your basement.
Make sure gutters are clean and landscape is pitched away from the foundation.
Make sure landscaping is not higher than the waterproofing membrane
Correcting these issues first could solve your water issues and prevent the need for waterproofing.
If you have water coming in your basement give Absolute Plumbing & Boiler a call. We will come out and help guide you in making the best decision for your home and your budget.
What Steps Are Involved In A Quality Waterproofing Job?
Codes vary from city to city on the requirements of basement waterproofing. In the Rocky River, OH area there are some basic rules that apply.
Any dirt that is removed for waterproofing purposes must be replaced with stone to with in 18″ of finished grade.
Any cracks in the wall should be repaired before waterproofing membrane is applied.
Parge coat should be intact on bare blocks before waterproofing membrane is applied.
Footer drains should be replaced with new pipe.
Drainage from footers should be verified to sump pump or to gravity system
Waterproofing membrane should be a rubber mastic, not tar ( Tar is a dampproofer not a waterproofer )
 Insulation board should be applied over rubber waterproofing
If the waterproofing contractor fails to do any of these items, you may have water in your basement next time it rains. Making sure a permit is pulled with the city will help ensure the job is done per code.
If I Need Waterproofing, Who Should I Choose?
When it comes time to waterproof your basement having a contractor who performs high quality work and stands behind their work is critical. There are many waterproofing companies to choose from.
Absolute Plumbing & Boiler highly recommends Weeden Waterproofing.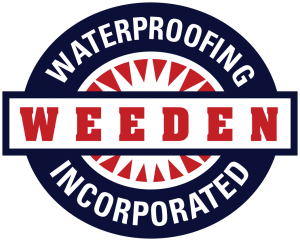 John Weeden and his team of expert technicians have been one the area's most trusted waterproofing companies for over 20 years.
Weeden Waterproofing's portfolio includes residential and commercial basement water proofing and foundation repair.
John Weeden's attention to detail, impeccable clean up and personal service has left countless home owners with dry basements and smiles on their faces.
If you are in need of quality waterproofing in the Rocky River, OH area give John a call at 440-808-9968.