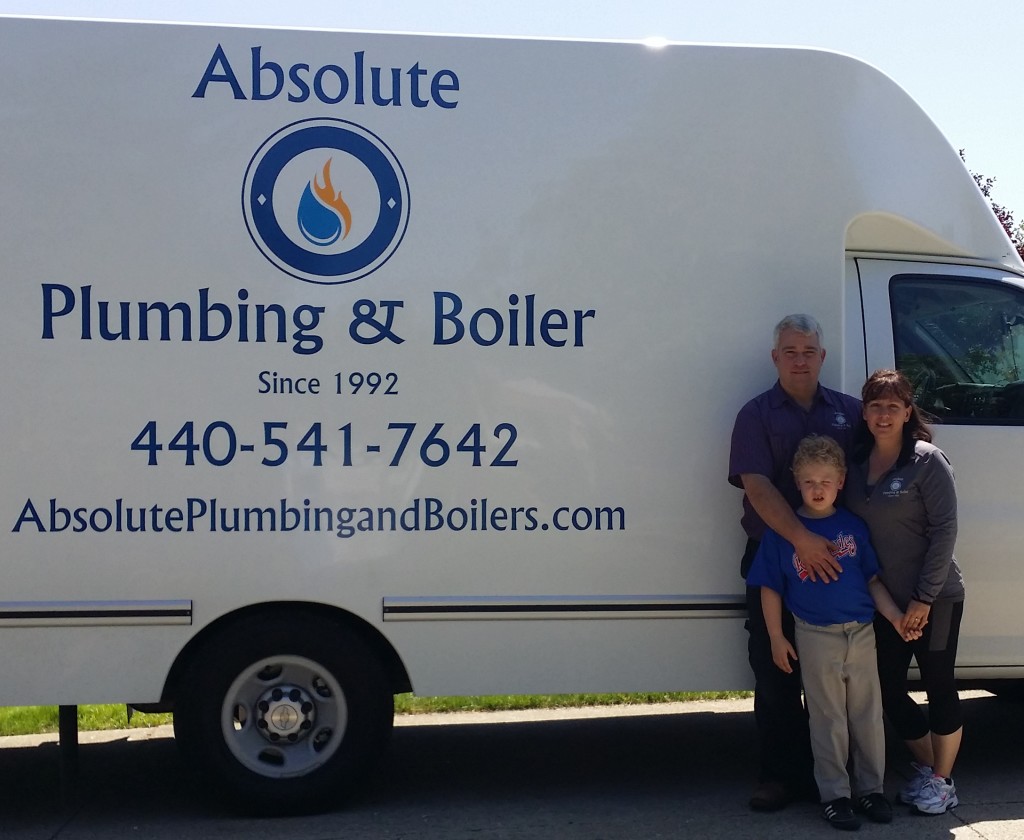 Absolute Plumbing & Boiler is a family owned, full service, repair, and replacement, plumbing and boiler contractor which has been in the business since 1992. We offer personal service, trust and reliability at affordable prices. Delivering knowledge and craftsmanship on every job is our mission.
Our clients in: Elyria, Amherst, Avon Lake, Avon, Westlake, North Olmstead, and Bay Village are those who seek a quality plumber with reliability, honesty and personal service.
Owner / Operator Dan Moss started in the plumbing business in 1992 in Tampa FL, where he performed:
new construction,
plumbing repair,
and maintenance of plumbing and backflow systems.
While in Tampa he obtained a B.S. in criminal justice, but he realized his interest was plumbing. He continued in the trades obtaining his FL contractors license in two fields.
In 2000 Dan moved to Ohio obtaining five state recognized licenses. It was in Ohio where his interest was peaked for hot water and steam heat which drove him to obtain his hydronics license. His partiality for plumbing and boiler systems and the challenges they present drive him to continuous self education so he is able to deliver an outstanding product to the consumer.  He treats your home as if it were his own.
Dan's entrepreneurial spirit and commitment to provide quality plumbing and boiler solutions led him to start his own business.  Dan wants to spend time with you, the customer, to understand your needs, situation and to educate you on the various options, he considers this the best part of being a plumber.  He loves calls from clients asking for his advice on issues related to plumbing and boilers.
Dan's plan for the future is to grow the business while always providing personal service and maintaining quality standards.
The objective for Absolute Plumbing and Boiler is to establish a long term relationship with their clients.  You can always reach Dan Moss directly at 440-541-7642. Your concerns are his top priority.
Education & Licenses:
B.M.V Ohio: Class A C.D.L
OSHA: Certified Confined Space Entry
OSHA: Certified Trenching and Excavation
Ohio Construction Industry Licensing Board: State License Hydronics Contractor, Installation, Service and Repair of Hot Water, and Steam Systems
N.C.I: Certified in Carbon Monoxide and Combustion Analysis
PHCC, OH: Backflow Prevention and Cross Connection Control
Ohio Construction Industry Licensing Board: State license Master Plumber, Installation, Repair and Service of Plumbing systems
PHCC, Fl: Backflow Prevention and Cross Connection Control
University of Tampa: B.S. Criminal Justice, Criminal Justice/Police Science

 Learn more about Dan Moss and connect with him on LinkedIn.