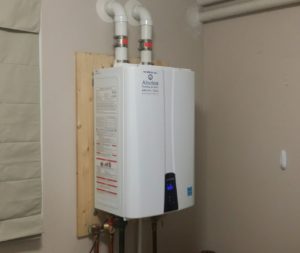 Water heaters are appliances designed to heat and supply hot water to your home or business. These pieces of equipment come in many different designs utilizing both electric and gas as the heat source. Some of the different types of water heaters are:
Tankless water heaters
Storage tank type water heaters
Hybrid water heaters
All these units require maintenance, repair and sometimes replacement.  If you are experiencing lack of hot water, noisy operation or water on the floor near the, it may be time to call a plumber.
Absolute Plumbing & Boiler is a leading expert in hot water heater repair, and installation.
Water Heater Installation
The size and type of water heater required for your home is determined by several factors.
How many people live in the home
Type of fixtures in the home
Required volume of water for the busiest time of the day
Once these factors are determined all that's left to do is to pick a water heater that meets your needs and your budget. We have installed all types of water heaters and have the knowledge to find the right fit for you and your budget. If you are in need of a installation or replacement give us a call.
Water Heater Repair
Have you ever been in the shower after a long day only to find there's no hot water? Maybe every time you turn on the hot water you hear a strange rumbling noise coming from the water heater. These can all be signs you are in need of hot water heater repairs.
Our highly skilled plumber near you is trained to repair all water heaters. We can get you back up and running quickly so you can get on with your day.
How To Avoid Costly Water Heater Repairs
The average life expectancy for a water heater is 10 to 15 years. That's assuming no maintenance.  Improper combustion, constant fresh water, hardness and softness of water are all major contributors to the failure of a water heater.
Performing annual maintenance can extend the life of a hot water heater by 3 to 5 years. The following maintenance items will protect your  water heater from premature failure.
Routine power flushing
Changing the anode rod
Cleaning and testing the burner assembly
Maintaining proper water pressure
Maintaining the exhaust system
Cleaning elements and thermostats
Absolute Plumbing & Boiler offers many different water heater maintenance programs custom tailored for your needs.
Absolute Plumbing & Boiler – Plumber Since 1992!
Since 1992, Absolute Plumbing & Boiler has been providing quality and affordable water heater repair services.
Absolute Plumbing & Boiler promises that our work is done expertly and efficiently so you can live and work comfortably. Please request an appointment online or call (843)594-0999.