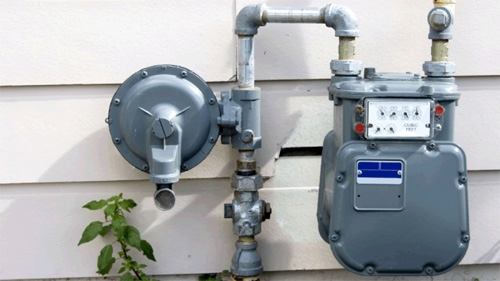 Gas lines are pipes installed by a plumber, used to transport fuel to be used by people daily for their residential and commercial needs. Many types of material can be used for gas line installation. The application in which the gas is to be used will dictate the type of material that can be used.
The code primarily responsable for governing the installation and repair of gas lines is the National Fuel Gas Code. This set of rules and codes are designed to keep the user safe. Gas line leak repairs and gas line installations should only be performed by a qualified professional plumber who is familiar with the gas code.
Absolute Plumbing & Boiler has been a leading expert on the National Fuel gas code for many years. Our knowledge of gas line repair and installation will insure your gas system is safe.
Gas Line Leak Repair Plumber
Gas lines can leak over time. Most interior gas line systems are designed to run at a quarter pound to two pounds of pressure depending on the application. Raw natural gas has no odor and it can be difficult to detect a gas line leak. Because of this gas companies will add Mercaptan to the gas which gives it a distinctive odor. This is done intentionally to draw attention in case of a gas line leak.
If you should smell gas give us a call we will come out, locate the leak and make the repairs needed to keep your home safe. Our technicians are highly trained in gas line leak repair.
Gas Line Installation
Sometimes a new gas line installation is needed to deliver gas to a new appliance. Adding a new gas grill, clothes dryer, fireplace or a gas stove will require a qualified gas line plumber who is familiar with the code. When performing a gas line installation it is important to take in consideration the size and pressure rating of the system. If this is ignored then your new appliance's performance will suffer. Understanding pressures and pipe sizes is something we specialize in. Gas line installations performed by non qualified individuals can be unsafe for your home and those who live in it.
If you have any questions about a new gas line installation give us a call, we are here to help. Dan Moss owner of Absolute Plumbing & Boiler is one of the area's leading experts in code approved gas line installations.
Absolute Plumbing & Boiler – Plumber Since 1992!
Since 1992, Absolute Plumbing & Boiler has been providing quality and affordable gas line leak repair and gas line installation services.
Absolute Plumbing & Boiler promises that our work is done expertly and efficiently so you can live and work comfortably. Please request an appointment online or call (843) 594-0999.