Are you a resident of Avon Ohio looking for a reliable plumber that you can trust? Meet Absolute Plumbing and Boiler, providing Avon Ohio Sump Pump Repair and Installation.
What is a Sump Pump?
A sump pump is a submersible pump that moves water out of your basement or crawl space to avoid flooding. The sump pump will push the water outside of your house and away from the house's foundation. Sump pumps are necessary if you have any water accumulation in your basement.  A pit is dug out creating the lowest point of your basement, giving excess water a place to run to. The sump pump is then placed inside the pit. Part of the sump pump called the float will activate the pump once the water reaches a certain level. This is so the sump pump does not run continuously.
Why Do Sump Pumps Fail?
First and foremost, the sump pump must have power to be effective. Secondly, sump pumps will fail sooner than expected when not maintained. Like other household appliances, every sump pump will wear out eventually.
Sump Pump Maintenance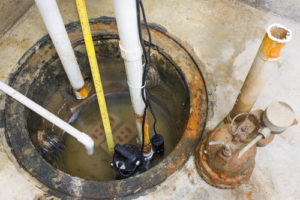 It is important that you routinely cycle the pump by simply dumping a bucket of water in it to ensure the pump kicks on. This may be the only heads up you get if your pump is beginning to fail.
Keep the sump pump pit clean by removing any debris that accumulates inside it by hand or with a wet vac. Debris inside the pump can clog the pump or cause the float to get stuck out of position. Check the float to make sure it can move freely so that you ensure the pump will engage when need be. Using a sump pump cover will help keep your pit clean and free of things that could potentially lead to pump failure.
Battery Back Up Sump Pumps
Older sump pumps may have a backup pump that will engage if there is a float problem or some other problem with the primary pump. The problem with these types of systems is that the pump doesn't work when the power goes out. In areas like Avon Ohio, we can accumulate quite a bit of precipitation when the power goes out. Modern sump pump back ups will work when the primary pump fails but also can operates from of a 12-volt battery connected to a charger. Battery back up sump pumps are Absolute Plumbing and Boiler's recommended option for sump pump replacement.
How Long Do Sump Pumps Last?
Absolute Plumbing and Boiler recommends replacing a sump pump after 6 years of use, under normal conditions. It is best to replace your pump prior to this to ensure consistent operation rather than risk the costs associated with a flooded basement.
Extended Sump Pump Monitoring
There are various smart devices available that monitor your sump pump's status. These devices monitor things like how many gallons per hour the system is pumping out and most importantly the power status. From time to time the GFCI on an outlet will be triggered causing your sump pump to lose power while the rest of your house does not. Smart sump pump monitors will send a notification to your phone or tablet when your pump is in trouble and not operational in power failure or other circumstances.
Sump Pump Repair in Avon Ohio
Read reviews from your neighbors we have served in Arlington Place, Avenbury Lakes, Bentley Park, Chestnut Creek Estates, French Creek, Mcintosh Farms, Red Tail, Stonebridge, Summer Hill and more!
If you are looking for sump pump repair in Avon Ohio, give Absolute Plumbing and Boiler a call today at 440-541-7642.