What is a Backflow Preventer?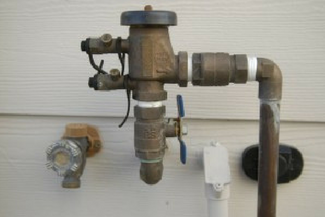 Backflow preventers are required in cities for certain applications to keep your drinking water safe from pollutants and contaminants. These devices consist of a series of check valves and relief valves that prevent used water from re entering the drinking supply.
One of the best examples of an application that requires a backflow preventer is underground irrigation systems.  Underground irrigation systems pose one of the biggest health threats to the drinking water system. Just think about what happens on your lawn.  Maybe, you have fertilizers applied to keep your lawn nice and green.  Maybe, the insects are getting the best of your lawn and you cover it with bug killer.  Your dog or the neighborhood dog fertilizers your lawn for you putting this waste material into the soil. As long as you have a working backflow preventer in place you have no worries.
Absolute Plumbing & Boiler has performed backflow testing for many years and can help in keep your water safe.
Backflow Installation
Backflow preventers should be installed by a Ohio licensed backflow plumber to ensure the device is installed per code. The type of backflow device is dictated by the potential risk of contamination on the property. There are different types of backflow devices available that the city of Elyria and the State of Ohio will allow to be installed.
Dan Moss, owner of Absolute Plumbing & Boiler has installed numerous backflow devices at homes and businesses and knows exactly which backflow device will fit your needs.
Backflow Testing Services in Elyria and Surrounding Areas
These devices are required to be certified by a state licensed backflow tester annually, at the time of installation and if any repairs have been made to the system. The series of check valves and relief valves must be tested with a special gauge to ensure they are performing their job. Once the device has been tested, the readings are recorded and filed with the city of Elyria. If you are in need of backflow testing, give us a call.
Backflow Repair
Sometimes a backflow device may begin to leak or they don't pass inspection and are in need of repair. Rebuilding these devices can save money rather than replacing the entire unit.  Backflow repairs should be made by an experienced plumber. With our experience as a licensed backflow tester, we will get the problem fixed in a timely manner.
Absolute Plumbing & Boiler – Plumber Since 1992!
Since 1992, Absolute Plumbing & Boiler has been providing quality and affordable plumbing repairs and boiler services to the city of Elyria, OH.
Absolute Plumbing & Boiler promise that our work is done expertly and efficiently so you can live and work comfortably. Please request an appointment online or call 440-541-7642.