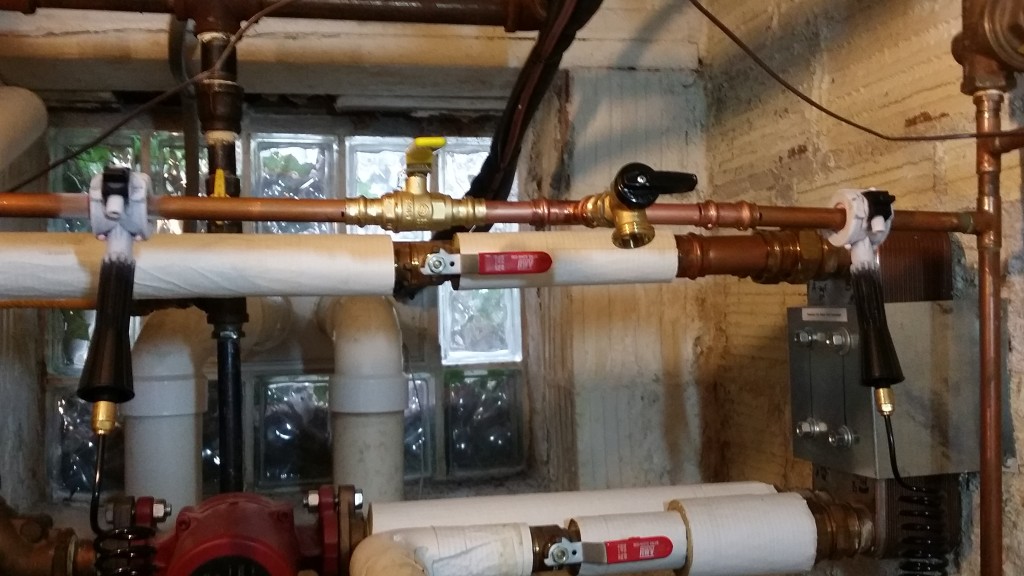 Line Freezing & Pipe Freeze Plugging Service
Since 1992, Absolute Plumbing & Boiler has made it our business to keep domestic and heating water piping systems online and prevent unnecessary interruptions. As part of our ongoing advancements in the plumbing and boiler industry, we now offer Pipe Freezing also known as Pipe Freeze Stopping or Plugging. Freeze Plugs are an alternative option to shutting down and draining an entire residential or commercial building and are designed to effectively isolate pipe sections where valves are unavailable or inoperable. Through a combination of years of knowledge and specialized tools,  you can be assured that your pipe systems will stay in service during repairs or alterations.
Pipe Freezing – How it Works
Isolation of the system is established effectively through the application of liquid CO2. The process begins with special clamps placed around the pipe. Liquid Carbon Dioxide begins to flow to the freeze heads and form dry ice at a temperature of -110F°. This is cold enough to form an ice plug in the pipe that can withstand thousands of pounds of pressure without damaging the pipe.
When establishing and maintaining a freeze plug, it is critical that the system has no flow and the freeze plug must be an established distance from any flowing pipe branches and water should be as close to room temperature as possible. In the event that pipe freezing is unsuccessful full shut down of the system may be necessary.
Typical Pipe Freezing Applications
Pipe freezing has many applications, including Residential and Commercial plumbing water supply systems, boiler systems and fire suppression sprinkler lines.
Single or multiple freeze isolations can be applied on Copper, Plastic and Steel pipes up to 2″ in diameter, to allow:
Valve installation and replacement
Water line leak repairs
Installation of new branch lines
Boiler heating line repair
Equipment isolation or termination
Main service valve repair or replacement
Pipe Freeze Benefits
Pipe freezing is widely acknowledged as a safe, reliable and highly cost-effective method of temporary pipe isolation and as a result offers a number of major benefits:
No need to drain down entire building
Avoids costly venting procedures on boiler systems
Keeps system operational while repairs are made
Absolute Plumbing & Boiler – Plumber Since 1992!
Since 1992 Absolute Plumbing & Boiler has been at the forefront of cutting edge technology to save you time and money. Our pipe freezing water line repair equipment is just one of the many examples of our commitment to excellence in our industry.
Absolute Plumbing & Boiler promise that our work is done expertly and efficiently so you can live and work comfortably. Please request an appointment online or call 440-541-7642