Plumber in Elyria Finds Hidden Water Leaks
What I like most about this trade is the satisfaction of saving my client thousands of dollars through the use of high tech equipment and superb training.
One of my top clients in Elyria is Twin Lake Homes. A hidden gem, Twin Lake Homes has the most spectacular manufactured homes in the area. Having premium affordable homes in their arsenal is just the beginning.
Standing behind these spacious affordable homes is an experienced staff of office personnel and a top-notch maintenance crew. I do work in many different cities and Twin Lake Homes takes manufactured home living to higher level with their attention to detail.
Hidden Water Leaks Can Cost Big Money
As a business they have to make sure money is spent wisely. Plumbing repairs can add up quickly putting a strain on the budget. One of the most costly plumbing repairs they face is hidden water leaks on their water lines feeding each home. These water lines are 3/4″ plastic and as they age can develop pin holes costing the home owner hundreds of dollars in water usage. There is also the task of repairing the water line. This responsibility and cost falls on Twin Lake Homes. One of the things that separates them from other manufactured home communities is that they know having a quality plumber in Elyria they can count on actually saves them money.
Most average plumbers would look at a 120′ plastic water line, 4′ deep, with a pin hole in it and say "replace it" or "let's start digging until we find it". The average cost to replace these lines can run three to four thousand dollars each. That can add up pretty quick when you multiply that times hundreds of homes in this community. Just digging around looking for the leak just doesn't make sense. There has to be a more efficient way to find these hidden water leaks.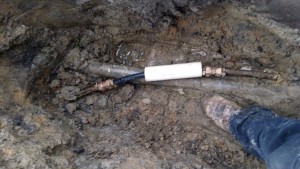 Not All Plumbers are Created equal!
One of the things I pride myself on is being the best at what I do. So when I got a call that there was a leak on one of these water lines buried four feet deep I immediately contacted the maintenance crew and set up a time to come out and perform a hidden water leak detection service.
The water line was approximately 130′ long, four feet deep, and only 3/4″ in diameter. Once on site I isolated the line and verified it was leaking via a hydrostatic test. Once I confirmed there was a leak I injected a traceable gas into the line. Within five minutes I had the hidden water leak narrowed down to a 2′ x 2′ area. I then broke out the sonic leak detector, the plumbers secret weapon for finding hidden water leaks. With this tool I can hear a pin drop 100′ away as a train is barreling down the tracks in the background.
This equipment allowed me to pin point the hidden water leaks within inches of the pin hole in the pipe. Once the maintenance crew and I dug up the located spot we simply repaired the bad section of the pipe and backfilled the hole saving thousands of dollars. This entire process took four hours to complete.
If you need a plumber in Elyria to find hidden water leaks at your home, call Absolute Plumbing & Boiler.
---
Helpful Plumbing Links for Elyria Ohio