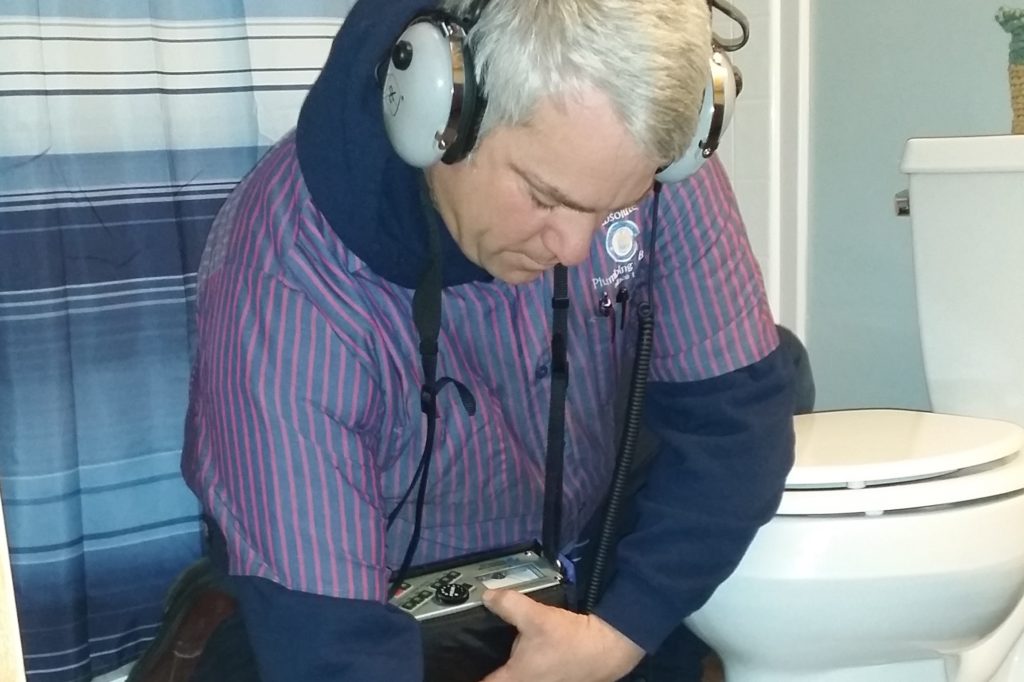 What is a Slab Leak?
Slab leak is term used in the plumbing industry that refers to a water leak coming from a water line under a concrete floor of a building. Residential homes or commercial buildings built on a concrete slab or pad typically have water supply lines installed by plumbers under them to deliver water to the plumbing fixtures.
Slab leaks can occur in many types of water lines such as copper water lines, galvanized or metal water lines and plastic water lines ( CPVC or PEX ). Many factors contribute to a slab leak. Some of the common causes of slab leaks are rubbing of the pipe on a hard object, deterioration of pipe by soil or water conditions and defects in the material or installation process.
Slab Leak Detection in Elyria
Some companies advertise slab leak detection services but when they get into your home they end up cutting holes in your walls looking for water lines and use a process of elimination to figure out which water line is leaking. Then they offer to re-route the leaking water line. This process is old school and takes hours to perform. Just to figure out which water line is leaking can cost you hundreds and in some cases thousands of dollars before the leak is even repaired.
Dan Moss owner of Absolute Plumbing and Boiler uses years of slab construction knowledge, state of the art slab leak detection and line locating equipment to find your slab leak at a fraction of the cost without cutting open walls and guessing. Our electronic amplification equipment is designed specifically for slab leak detection. The slab leak detection equipment amplifies the sound of the slab leak enabling us to tell you where the leak is.
Signs you may need slab leak detection and repair are:
Higher than usual water bills.
Sounds of water running mysteriously.
Low water pressure.
Warm spots on the floor
Lack of hot water
Slab Leak Repair
Once we have performed our slab leak detection service and located the water line leak we will be able to give you options to correct to problem. Since we perform our own leak detection and slab leak repair you cut out the middle man which saves you money and time. Many companies will have to call in a slab leak detection service just to find the leak. Which will cost you more money and time.
Options for slab leak repairs include:
Spot Repair – Open up concrete floor, repair water line and patch floor back.
Repipe or Reroute – Depending on the location of the leak it maybe cheaper to abandon the leaking water line and run a new one from a different location.
Our slab leak repairs are designed to provide the best repair for your home and your budget.
Absolute Plumbing and Boiler – Plumber Since 1992!
Absolute Plumbing and Boiler has been providing slab leak detection services and slab leak repairs to the city of Elyria, Ohio and its surrounding areas for many years.
Local Plumber, Dan Moss has over 22 years of experience in slab constructed homes and understands how the plumbing systems are installed. When it comes to slab leak detection services this experience saves you time and money. If you are in need of slab leak detection or repair services in and around Elyria give us a call.
Absolute Plumbing & Boiler promises that our work is done expertly and efficiently so you can live and work comfortably. Please request an appointment  or call 440-541-7642