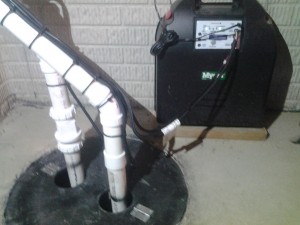 If you own a modern home with a basement or a crawl space there is a good chance you may have a sump pump. These devices are usually installed by a local plumber in a pit, in or around your basement. Their job is to remove ground water from around your house before it fills your basement with water. As it rains, water saturates the ground around your home and begins to enter the pit where the sump pump is located. Once the water in the pit reaches a certain level, it activates a switch on the sump pump and water is removed before it has a chance to flood your home.
If your sump pump fails it can be stressful. It can cost hundreds or even thousands of dollars in damage and increased insurance rates. Not to mention it can cost you, your valuable time and efforts to orchestrate the clean up process.
Absolute Plumbing & Boiler can help with repair, replacement and design of custom sump pump systems to ensure your basement is dry.
The Importance of Maintaining a Sump Pump
A sump pump system that is designed by a plumber properly is a major part of keeping your basement dry.  Improperly sized sump pump systems and lack of maintenance are the leading causes for failure of these systems. The reality is that sump pump systems (when installed and maintained correctly) are actually the best line of defense against preventing water from entering your home. They isolate your system from the city's storm system and keep the water from filling up around your foundation. Sump pumps should be complimented with a quality back up system.
These sump pumps accumulate dirt and debris and have a limited life expectancy. Switches and batteries are a part of these systems and should be inspected and cleaned by a plumber to ensure they are operating within manufacturer specs.
If you have any concerns about your sump pump system give Absolute Plumbing & Boiler a call.
Absolute Plumbing & Boiler – Plumber Since 1992!
Since 1992, Absolute Plumbing & Boiler has been providing quality and affordable plumbing repairs and boiler services to the city of Elyria, OH.
Our local plumber promises that our work is done expertly and efficiently so you can live and work comfortably. Please request an appointment online or call 440-541-7642.